About Us
Our Story
A Fun and Dynamic Learning Environment
GGreat Beginnings Child Care has been providing quality care with a rich & diverse learning environment since 2001.
We believe that children are competent, capable of complex thinking, curious & rich in potential. Each child is a unique individual who deserves a secure, safe, caring & stimulating environment in which to grow & learn. Great Beginnings Child Care operates as a Christian Day Care. Our desire is to help children reach their fullest potential in all areas of development; socially, physically, emotionally, spiritually & intellectually.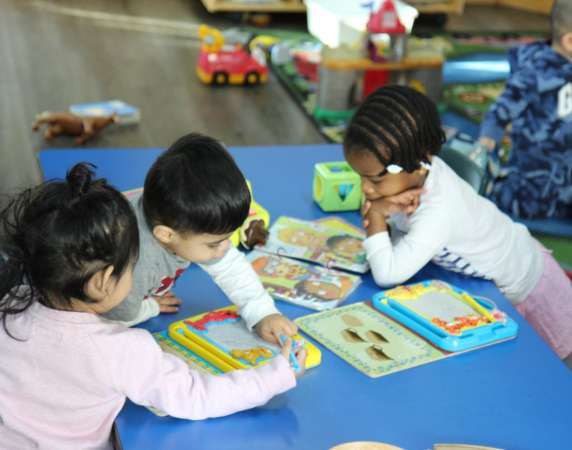 Great Beginnings has received numerous Readers Choice Awards and we have been voted #1 daycare in Durham.
We are a non-profit daycare committed to providing quality care to children & their families. We also support charities.
OUR MISSION
The Mission of Great Beginnings Child Care
is to provide the highest quality of early childhood education for each child on an ongoing basis.
We believe that each child is a unique individual who deserves a secure, safe, caring and stimulating environment in which to grow and learn in.
What We Offer
We use the pedagogy process for understanding and supporting learning:
 We build positive and responsive relationships
 We focus on children's social, emotional, physical, creative, and cognitive development in a holistic way
 We provide an environment in which children learn through exploration, play, and inquiry
 We encourage self-reflection, discussion, and ongoing collaboration and learning among educators
 We engage with families, and value their strengths, contributions, and unique perspectives
 We use pedagogical documentation to study, interpret, make visible, and help inform parents of their child's learning and development
In partnering with the Ministry of Education, we apply the Four Foundations of How Does Learning Happen. It is organized around four foundational conditions that are important for children to grow and flourish: Belonging, Well-Being, Engagement and Expression. These foundations or ways of being, are a vision for all children's future potential and a view of what they should experience each and every day. They apply regardless of age , ability, culture, language, geography, or setting.
what parents say
Testimonials About Great Beginning Child Care
Awesome, Honest daycare, great people running it, Was the best investment we made into our son's life, I recommend Great Beginnings to everyone I know!!!
I absolutely love great beginnings child care and I am so glad I made the switch when I did. My son has learned so much during the time he has been there. He's recently moved into the preschool room and we are very happy with how the transition went. I cannot wait to see how he continues to grow during his time in great beginnings.
Great Beginnings Day Care was the best educational foundation my 2 children had in their formative years. They learnt to be independent, caring, sharing, confident, respectful and to know that God loved them. All this was gained in a loving, caring and safe environment with staff who were passionate about positively impacting children's lives.
I would recommend it to anyone time and time again!
All of our 5 kids attended Great beginnings daycare spanning a period of 10 years. During this time, they received excellent care. They provided an environment that fostered my daughters' learning and development in an exceptionally positive way. They prepared healthy meals and activities for my kids during their time at the daycare. The staff was very diligent and caring in the way they looked after the children. In addition, it was very important to me that my kids be cared for in a safe, Christ-filled and Christ-centered environment. This requirement was more than fulfilled by Great Beginnings daycare! My kids also loved going there, and often times would never want to leave when I came to pick them up in the afternoon. They learned valuable social skills and their kindergarten program prepared them academically so that it was an easy transition for them when they were ready to go to elementary school. Having our kids attend Great Beginnings was one of the best decisions we have ever made with regards to childcare. I highly recommend this daycare!!!
OUR TEAM
We are licensed by the Ministry of Education & have a purchase of service agreement with the Region of Durham. 
Our staff are Registered Early Childhood Educators & Early Childhood Assistants who are dedicated to providing the best possible care & early learning experience for children. Our educators represent culturally diverse backgrounds and are committed to continuous professional learning.